"I have been painting from an early age and my motivation is my true love of art. My style of painting is very varied and can cater for any style my clients require. I like to paint with good quality brushes, but also work with palette knives, cloths and spray cans where necessary to create the right effect. I can paint in an expressive style, sometimes with fine detail, sometimes spontaneous, applying layers of paint and adjusting the overall look as the piece progresses.
I love using bold and vivid colours which have a fantastic richness and depth, that really make the painting stand out and have life. I am yet to discover where in my sub-conscience or indeed where in my cultural heritage the colours come from but it is helping me to create an individual style which I feel can only be a good thing!
The subject matter of the portraits and paintings I am commissioned to create are varied; through painting I see emotion in faces where feeling, passion, angles and mood are prevalent. My pet portraits are particularly popular as this is often a lifelong memory of a beloved pet captured forever for the family.
I am constantly learning through observations, sketching and painting which I do whenever and wherever I can … every painting is always an exciting journey!"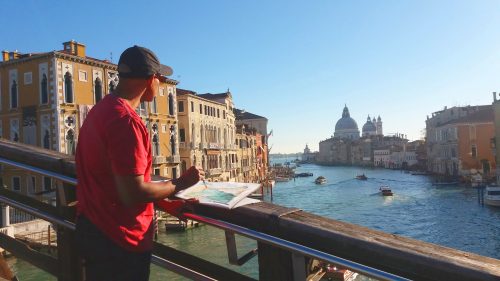 Water colour sketching in Venice, Italy on the Arcadia Bridge looking out onto the Grand Canal.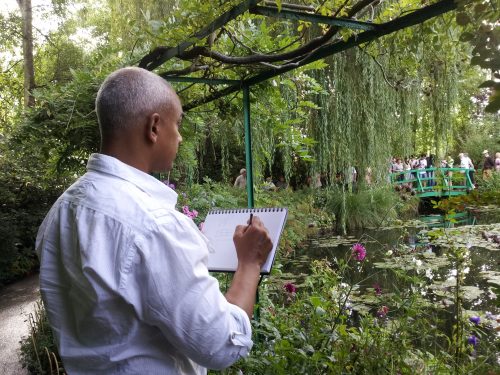 Feeling the inspiration from the Master himself … Sketching in Claude Monet's Garden, Giverny, France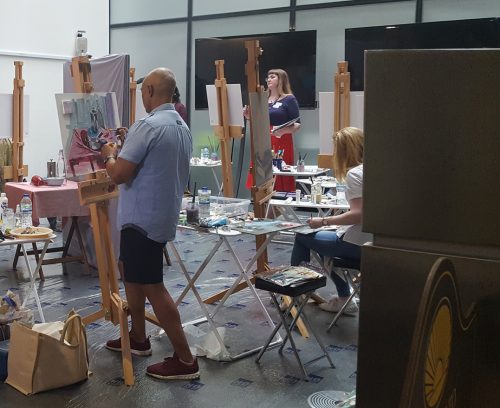 Under pressure in a 60 minute painting task for BBC's Big Painting Challenge audition!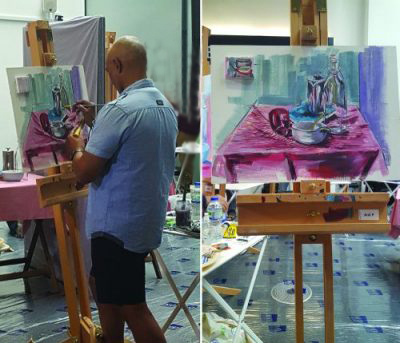 And after the task!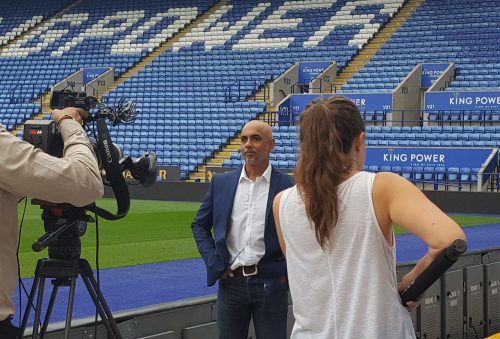 Television interview with the BBC for The Big Painting Challenge at the King Power Stadium, Leicester.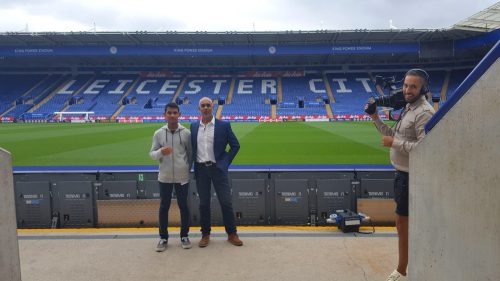 Post-interview with Producer/Director Afi Khan – pictured at the King Power Stadium with my son.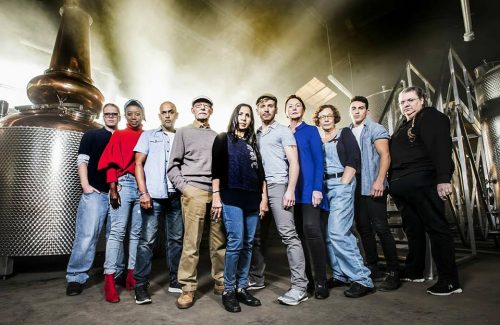 After completing the tasks and interviews I was delighted to have been chosen for BBC's Big Painting Challenge 2018!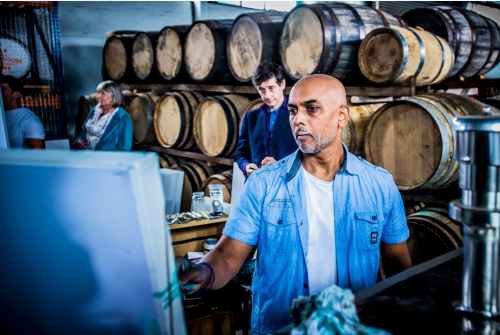 One of the first tasks on BBC's Big Painting Challenge. Under the watchful eyes of Daphne Todd and Lachlan Goudie, painting at the Glasgow Distillery (definitely a favourite place of mine)!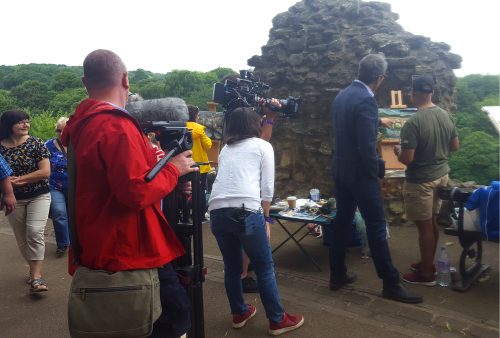 Painting 'en plein air' at Knaresborough Castle, for Sky Landscape Artist 2017, and being grilled by Sky judge and artist Tai-Shan Schierenberg.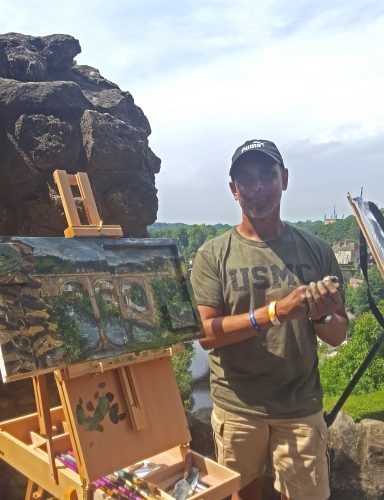 I love painting outside!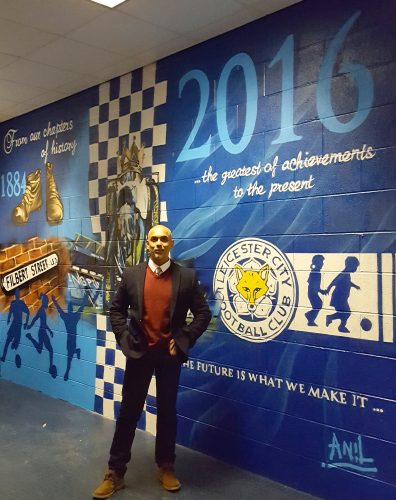 Proud moment for me as a life-long Leicester City supporter – standing in front of my winning mural design for the "Put Your Stamp on the King Power Stadium" competition in 2016. Made more special as it was voted for by the Leicester City fans!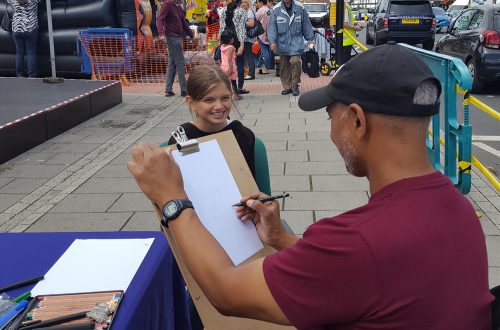 Cartooning and caricaturing at one of the many corporate events, fetes, carnivals and fun days I am commissioned to attend.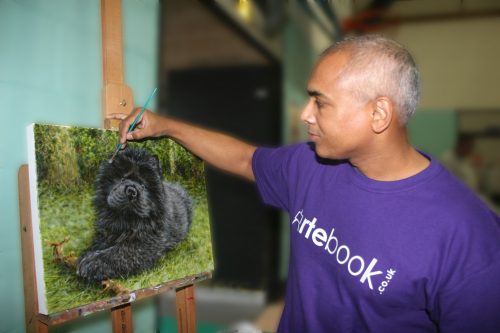 Painting live and taking commissions from proud pet owners at the 'Chow of the Year' Show!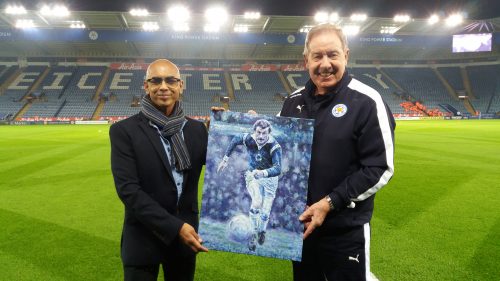 Presenting my original oil painting of England International/former Leicester City Player Keith Weller to Leicester City Club Ambassador Alan Birchenall, to hang proudly in the Keith Weller Lounge at my home town football club.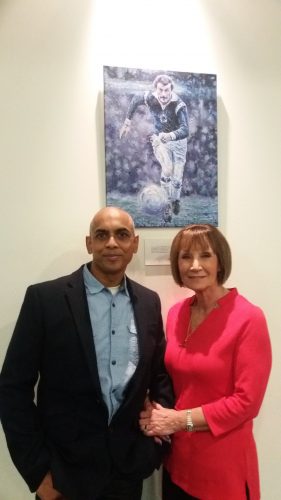 Unveiling the painting in the presence of Keith Weller's widow Terry, who had traveled over with their daughters from America especially for the day. Very proud moment for me.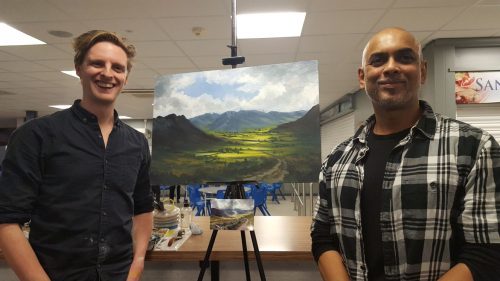 A meeting with fellow artist Fraser Scarfe from the Big Painting Challenge.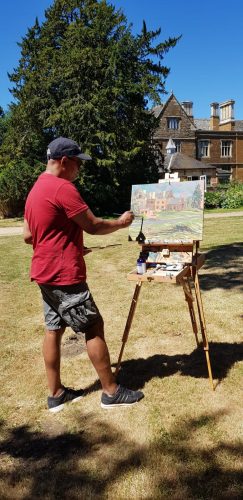 Great day painting at Launde Abbey, we've had a glorious summer for painting outside, shame it won't continue!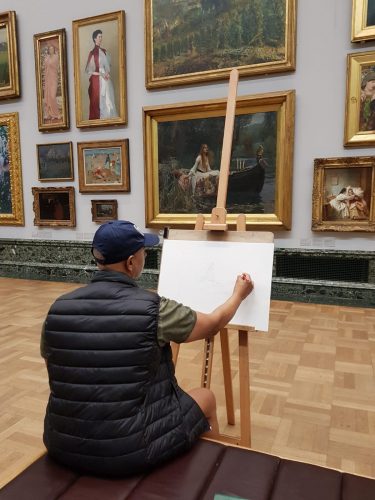 Painting outside is great fun but a hasty retreat is required when the weather is too cold! Sketching at the Tate Britain in front of The Lady of Shalott, painted by John William Waterhouse.
Save
Save
Save
Save